An online store,
built your way.
Start selling to consumers with your own branded store and domain in minutes. No design skills? No problem. Easily mix and match components from our high coverting, professionally-built designs.
Build your brand
Set your own logo, theme color, hero carousel, and web domain. You own your data and customers. We're just here to help you make it happen.
Set item-specific rules
Align your store with your product schedules with specific delivery dates and availability by item. Track inventory or easily set items as out of stock for more control.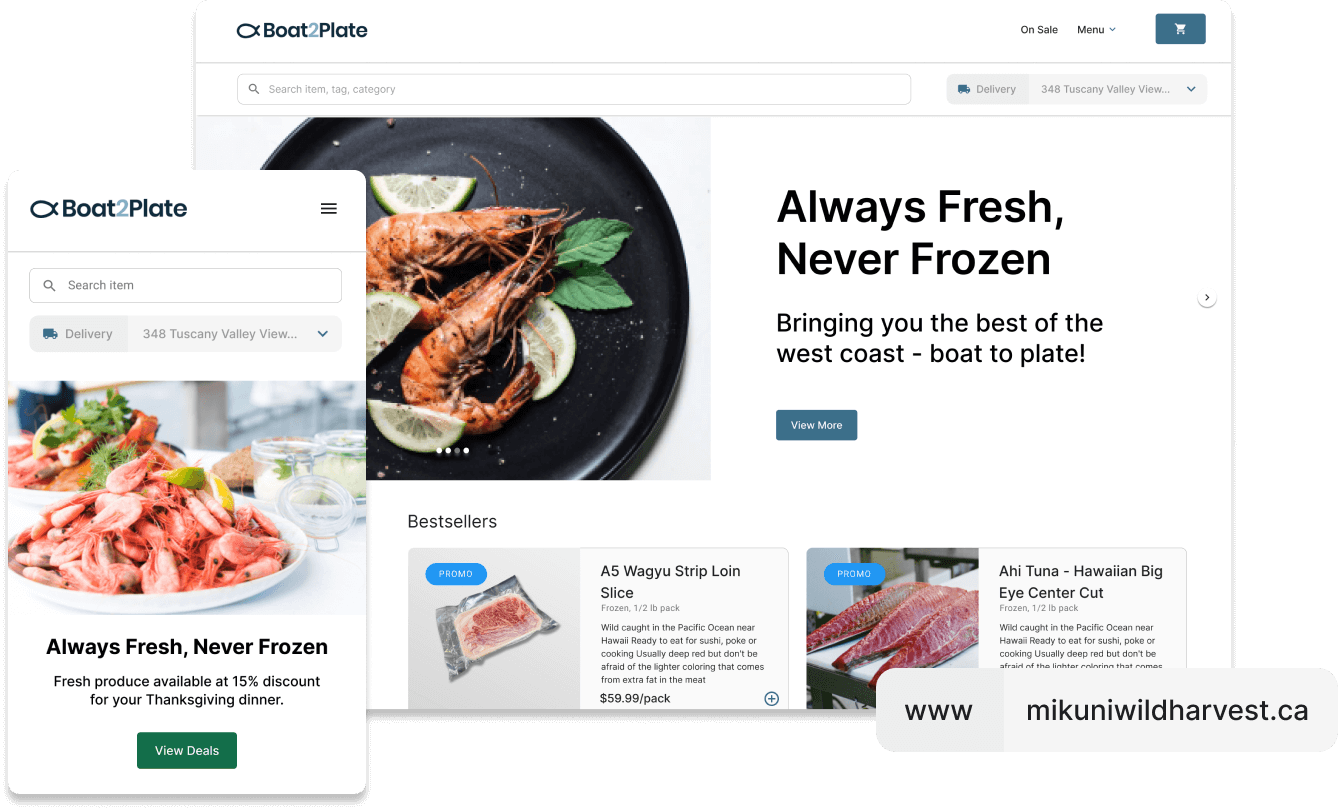 Automate store cutoffs and dates
Automatically compute available fulfillment dates based on customer addresses and the schedules of the items in cart. Set and enforce cutoffs and lead times by locations.
Adjust orders after checkout
Modify quantities, remove items, or change dates up until the end of the service date - without dealing with refunds, credits, or top-up charges.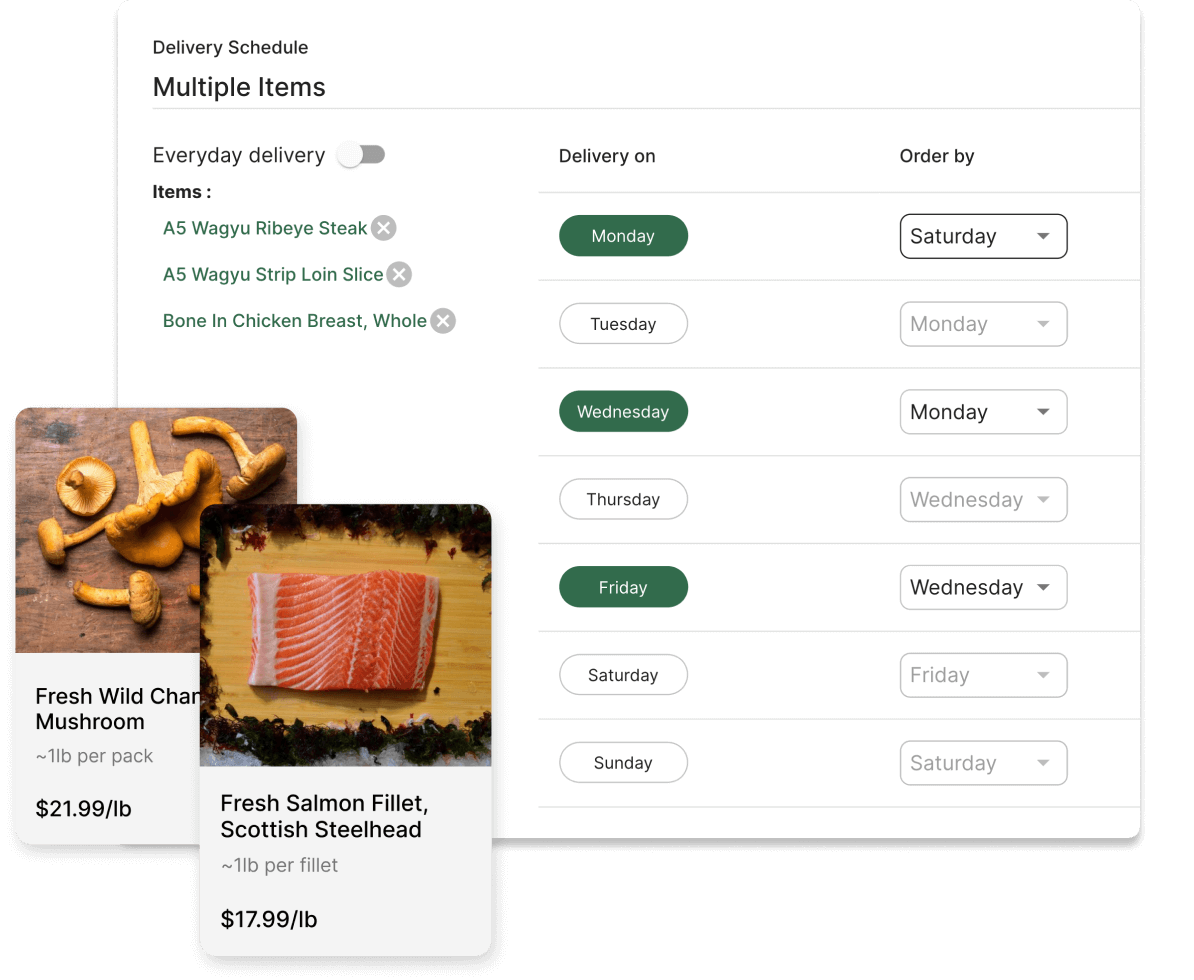 Bulk edit on the go
Save time by bulk adjusting inventory and pricing with Freshline's quick edit functionality. Make adjustments to order lead times, delivery dates, or display productions in just a few clicks.
Custom discount codes
Easily discount orders by percentage or amount - with expiry dates, redemption requirements, and usage rules across for individual users or for your entire store.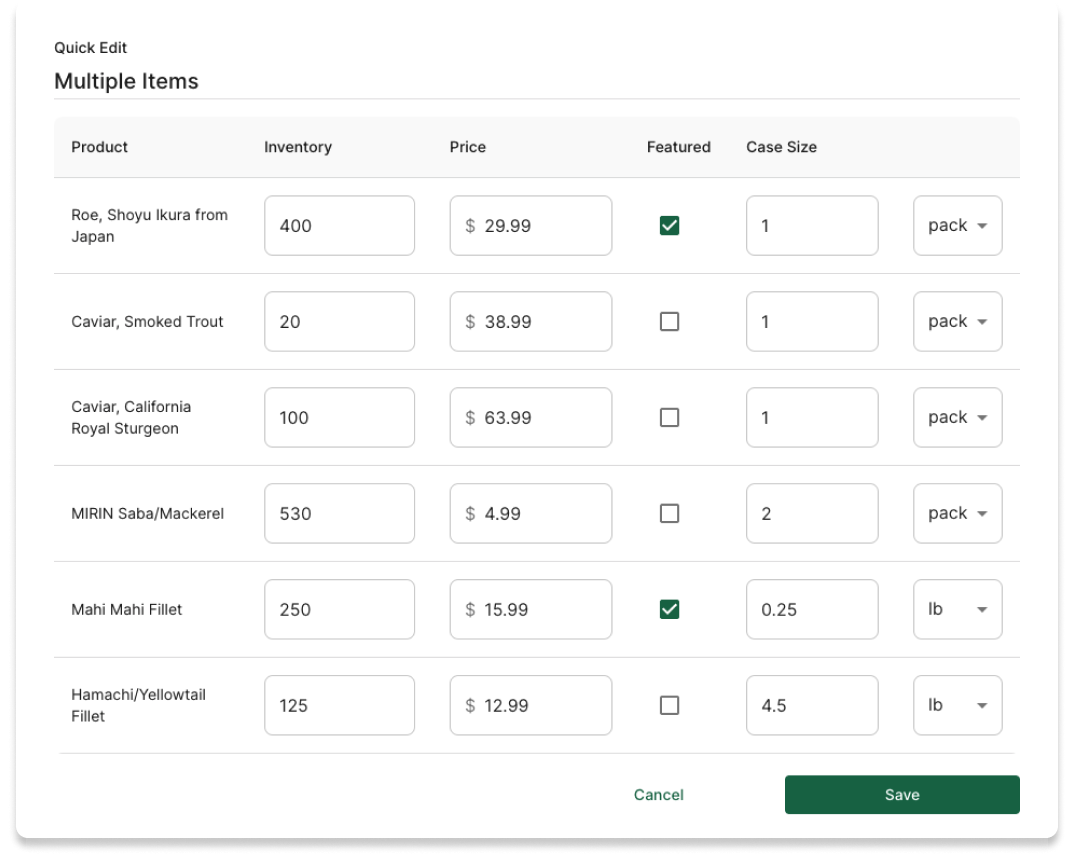 Transform your staff from order takers to sales people
Every minute you waste on manual orders, you could be selling to more customers. Eliminate late-night text orders and early morning manual entries. There's a better way.
E-commerce for Wholesale
Sell to wholesale customers with privileged access controls, custom pricing, and foodservice features.
E-Commerce for Retail
Create a branded, mobile-friendly online store by utilizing our professionally built design components.
Delivery & Shipping Zones
Customize delivery, pickup, and shipping zones, with schedules, fees, minimums, and availability by location.
Picking & Packing Sheets
Simplified picking and packing sheets by date, location, or wholesale orders.
Sell by Weight
Sell variable weight items, with an option to customize case sizes.
Sales & Fulfillment Analytics
Assess real-time SKU profitability, sales per rep, revenue per delivery zone, and more.
Ready to get started?
See why hundreds of food suppliers trust Freshline to sell more while saving time.