Digital price lists and product catalogs for
food suppliers.
Ditch the old PDF product catalog with a modern, mobile-friendly, real-time catalog and price list. Capture new customers and delight existing users with an upgraded product discovery process.
Paper and PDF-based price lists are
cumbersome.
The traditional product catalog and price list is cumbersome and time-consuming to manage. Not only that, these catalogs are:
Difficult to Keep Private
By sending a paper or PDF price list, you give up control on sensitive information like pricing. This can easily be leaked or distributed to other customers or competitors.
Not Media Rich
Not discoverable by search engines through SEO, meaning you miss out on free leads. No images or rich descriptions to help increase purchases.
Impossible to Keep in Sync
The static nature of PDF price lists means some clients may have an outdated expectation on pricing or product availability, based on the version they're referencing.
Real-time availability
Set your own custom payment hold multiplier to serve as a deposit for variable product weights. Reserve the customers' credit card for guarantee payment up to the end of the service date.
Eliminate manual refunds, cutting heavy, or top-up charges - and ensure customers get exactly what they paid for.
Discoverable on search engines
Rapidly adjust ordered vs. actual item weights directly on your picklist. Freshline will auto-calculate the new totals, notify customers on final weights, and ensure the correct charge goes through at the end of the service date.
User-specific pricing
Control access to sensitive pricing information by locking access to registered users. Revoke or modify their access at any time.
Share your product catalog, everywhere
Instead of editing, exporting, and attaching your price list - simply send a branded link that can be shared over email, text, or social media.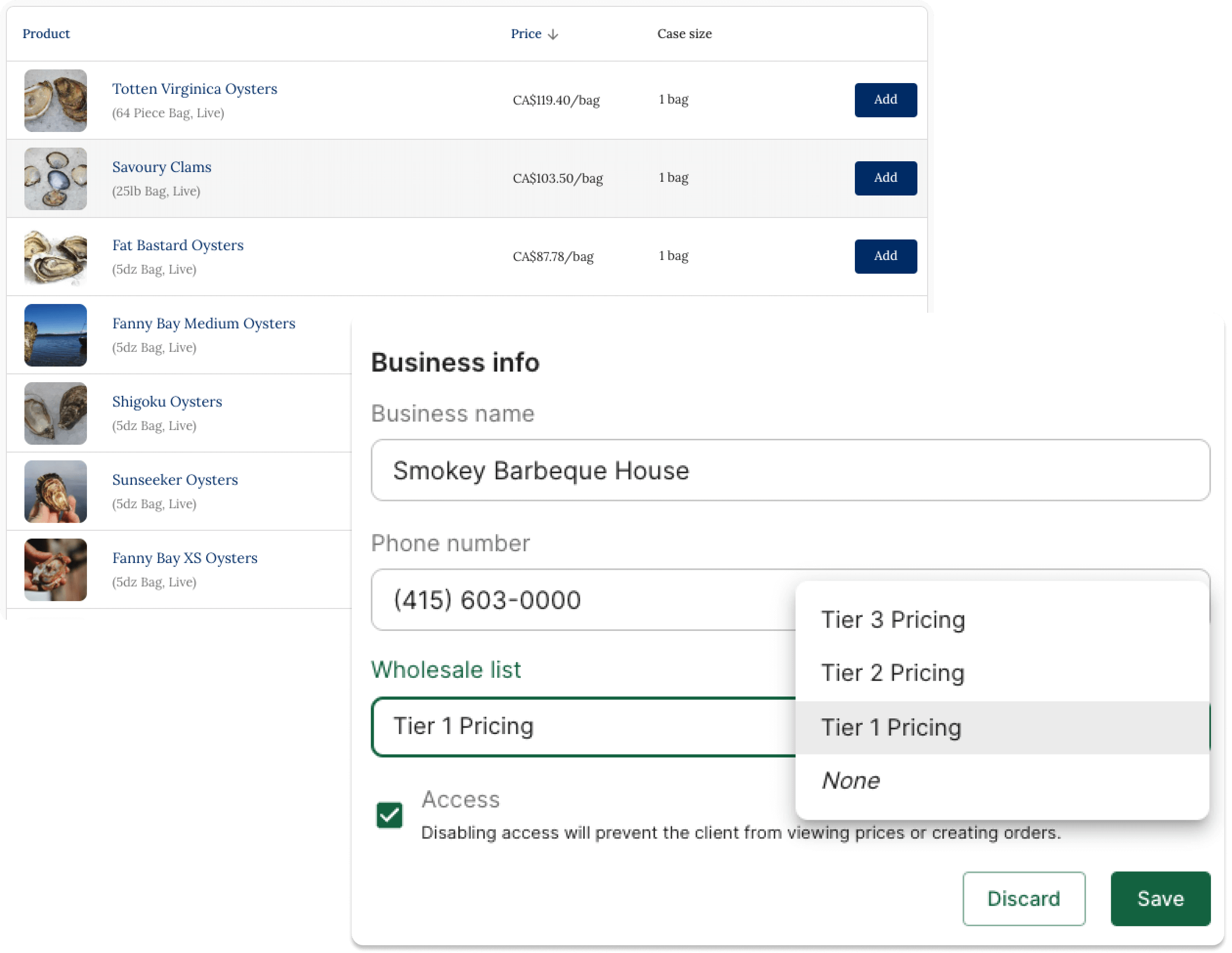 The complete e-commerce solution for food distributors
Simplify order collection and entry, access real-time analytics, and focus on growing your business — not maintaining it.
E-commerce built for Wholesalers
Sell to wholesale customers with gated access, custom pricing tiers, and sales rep order entry.
Custom Delivery Zones
Simplify your fulfillment with location-specific schedules, availability, cutoffs, or minimums.
Integration Capabilities
Minimize friction with pre-built integrations to industry ERPs and chain/hotel ordering systems.
Picking & Packing Sheets
Simplified picking and packing sheets by date, location, or wholesale orders.
Sell by Weight
Sell variable weight items, with an option to customize case sizes.
Sales & Fulfillment Analytics
Assess real-time SKU profitability, sales per rep, revenue per delivery zone, and more.
Ready to get started?
See why hundreds of food suppliers trust Freshline to sell more while saving time.