Grow your online
prepared foods business
Freshline is the best platform to sell prepared foods online. Build and launch an e-commerce platform built specifically for prepared foods companies.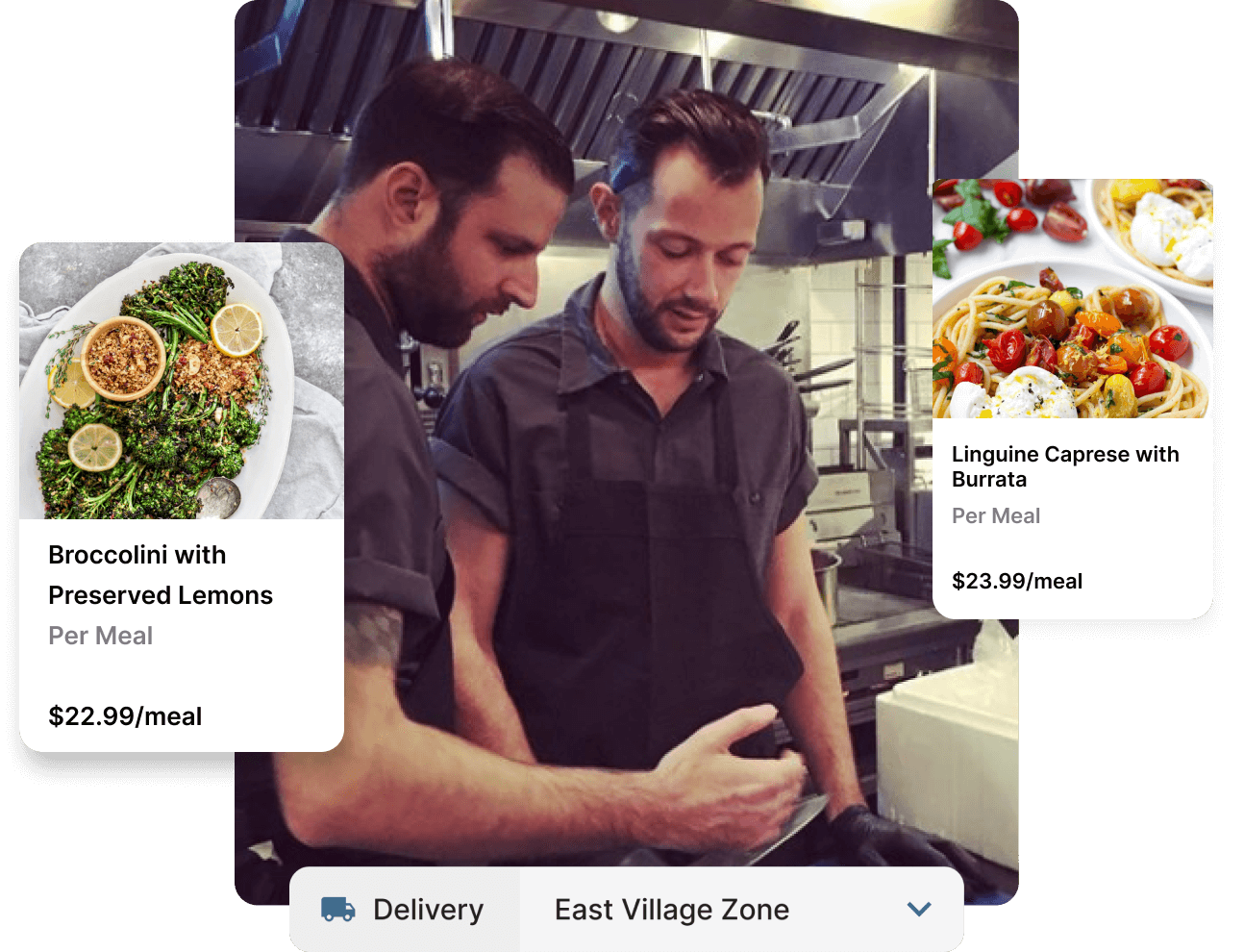 Everything you need to sell prepared foods online
Freshline is the built from the ground up for suppliers selling prepared foods online.
Built for selling prepared foods online
Set up your online ordering by variable weights, custom delivery zones, or complex fulfillment schedules.
Branded online store
Automate your ordering process through an online wholesale ordering platform. Selling to consumers? Build and launch an online store with zero code.
Streamlined fulfillment tools
Simplify your inventory management and automate picking and packing lists to save your team countless hours each month.
Wholesale Prepared Foods Ordering
Launch your own branded online ordering platorm for prepared foods. Turn text, fax, or phone orders into delightful digital experiences for customers and staff. Save time, reduce mistakes, and gather new, untapped data .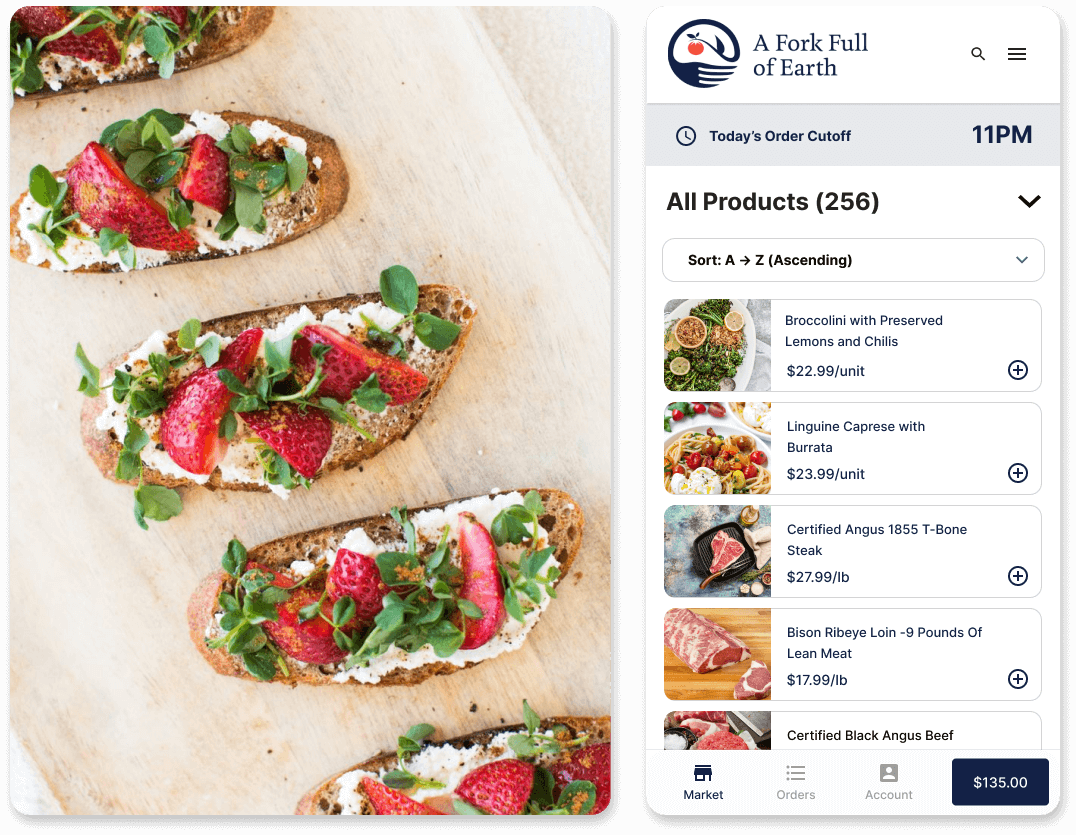 Sell Prepared Foods by Weight
Sell variable weight prepared foods products online, with an option to adjust weights after packing. Perfect for selling catch weight or hand-cut prepared foods online!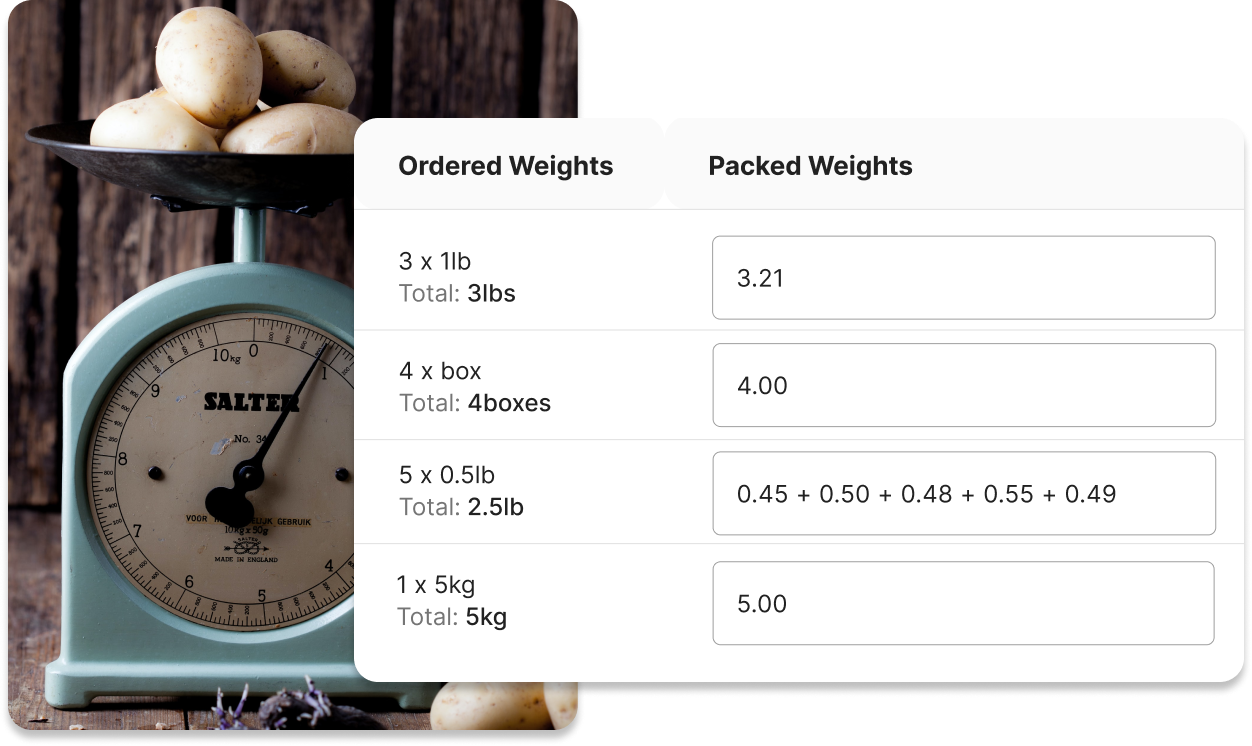 Custom Delivery, Shipping and Pickup Locations
Organize your trucks and fulfillment by creating detailed delivery, shipping, and pickup locations. Configure advanced rules on availability, minimums, and schedules that fit with your existing prepared foods business.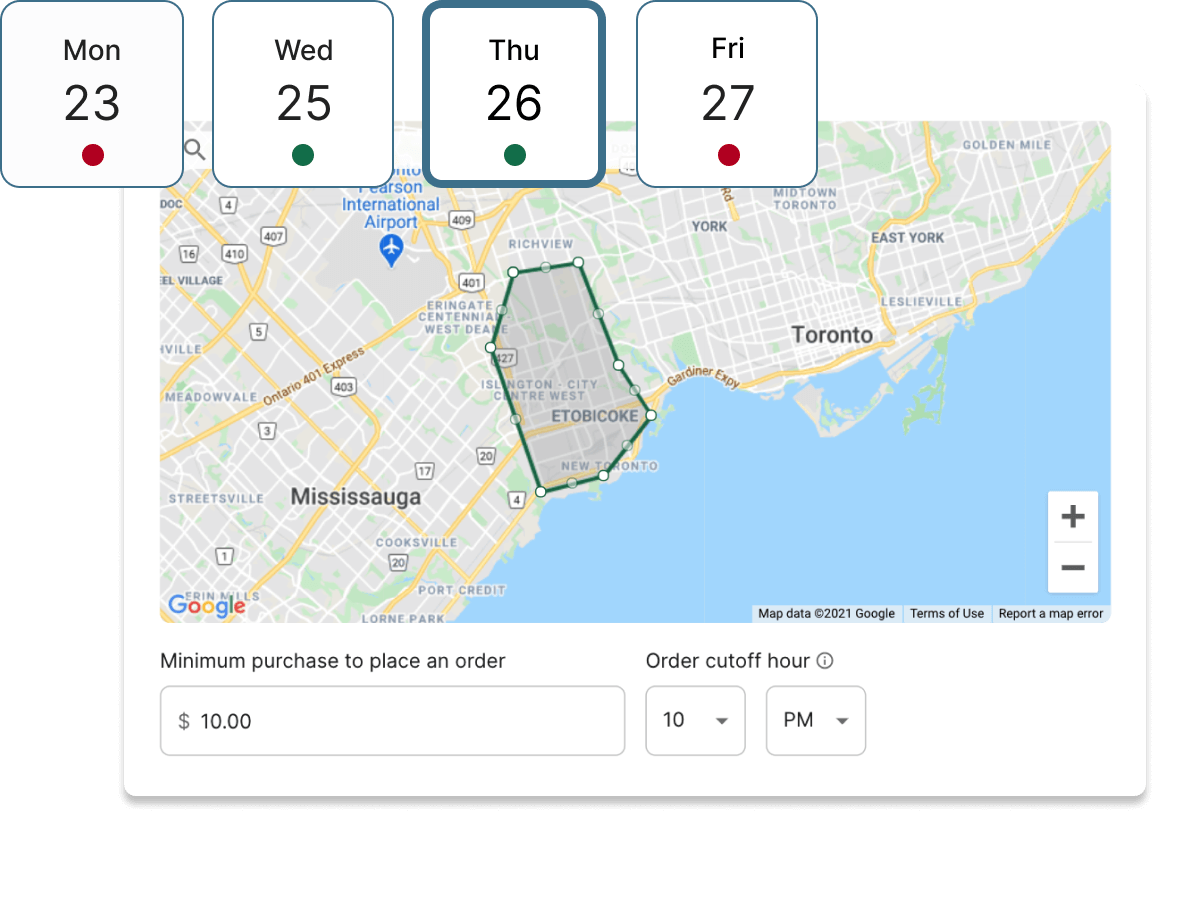 Inventory Management & Fulfillment for Prepared Foods
Quickly sort, print, and organize your prepared foods orders in just a few clicks. Customize your prepared foods packing and picking sheets while tracking live inventory for all of your prepared foods products online.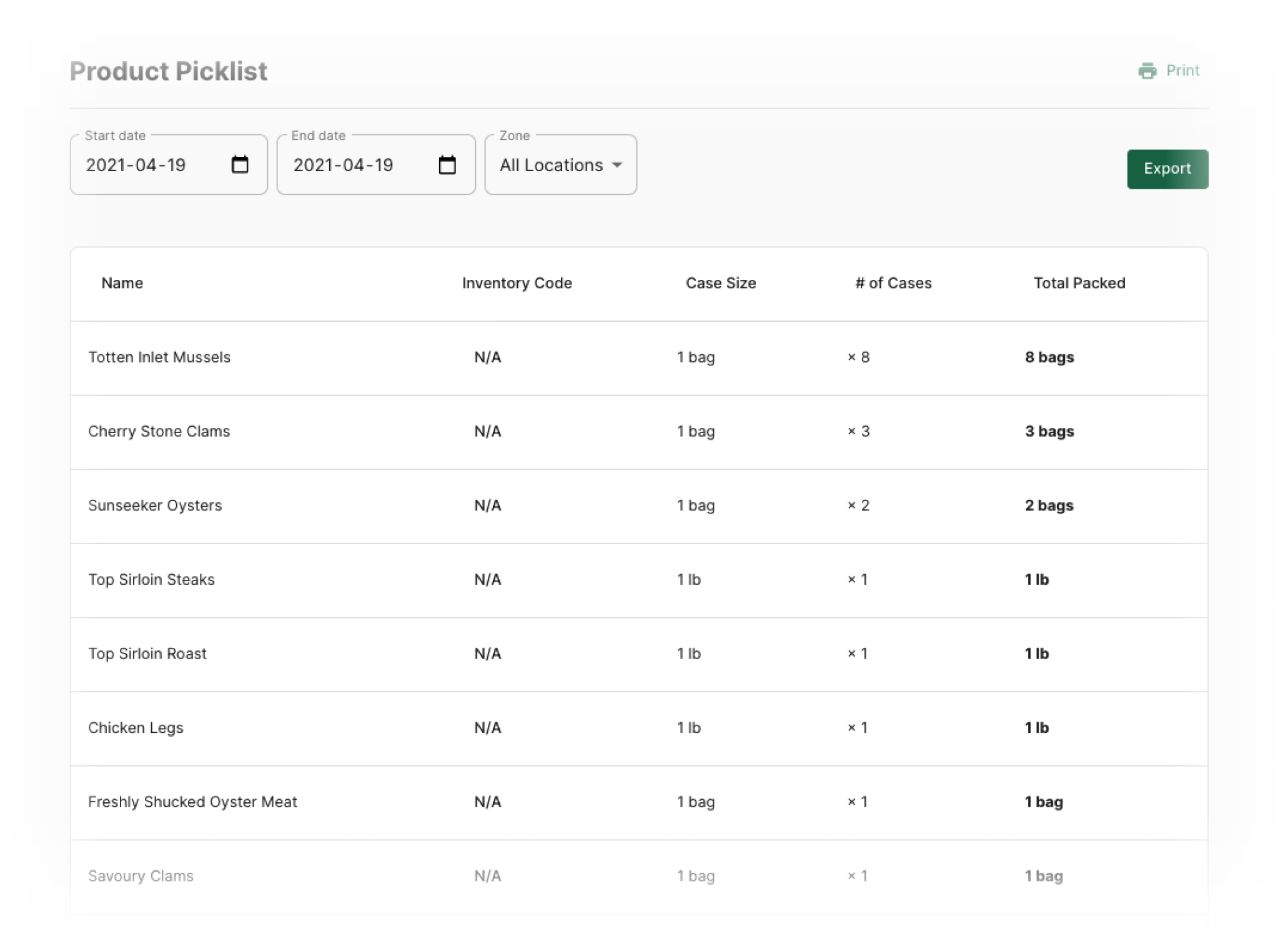 Sell any type of perishable food, online
Explore how Freshline can help you sell more while saving more time - whether you're selling to consumers, foodservice, or to wholesale customers.
Start scaling your prepared foods business
Learn more about selling prepared foods online with Freshline.
Most definitely! Since 2020, there has been a huge rise in fishers, fish markets, and prepared foods companies selling directly to consumers online.

Unlike other platforms, Freshline's e-commerce platform for prepared foods allows for custom purchasing increments (i.e. sell 2.5lb fillets while pricing per LB) and allows prepared foods companies to sell variable weight prepared foods products. See all of Freshline's features for selling prepared foods online by visiting our features page.

Simply put, fishers and prepared foods wholesalers shouldn't have to deal with time-consuming manual orders in the 21st century. Analog orders can lead to painful issues such as:

Changing Buyer Preferences: Young chefs and wholesale customers prefer online ordering vs. text/email/voicemail.

Empowered Sales Reps: Allow sales reps to take back their evenings and focus on building relationships and selling instead of serving as an ordering hotline.

Streamlined Operations: Automate error-prone tasks like order cutoffs, minimums, and inventory.

Growth Opportunity: B2B is the fastest growing segment in all of online commerce.

During COVID-19, consumers built thriving, lasting habits during a new normal — championing online prepared foods, perishables, and grocery ordering to the point where it's now one of the fastest growing segments in e-commerce. In August 2019, U.S online grocery sales (incl prepared foods & prepared foods) totalled $1.2 billion. In June 2020, that total ballooned to $7.2 billion.

And this trend is not slowing down. Even after COVID is long gone, ordering prepared foods online— will be a permanent fixture in our food ecosystem.

We suggest starting with local prepared foods deliveries, where you can start to build a following of local customers. This allows you to control and manage the entire customer experience from ordering to delivery. Using our Delivery, Shipping or Pickup feature, you can configure product availability, minimums, and schedules by specific areas.

Once you start to scale, you can expand your prepared foods business with regional carrier shipping via our ShipEngine integration. prepared foods is a high perishable product, so don't forget your gel packs or dry ice!

Absolutely. You have the option to fully white-label your online prepared foods store. You can choose any URL (i.e. sell-prepared foods-online.com, or shop.prepared foods-online.com), provided you own the domain.

Selling prepared foods online with Freshline is easy. First, sign up for an account. Then, book a short walkthrough demo, where a Freshline team member will walk you through all of our features, benefits, and guides to building the best online store for prepared foods.

Already have an online store or list of prepared foods items? We have an automatic script that allows you to migrate all of your prepared foods items to Freshline in just a few clicks. A Freshline team member will be happy to assist with this process after your demo walkthrough!
Ready to get started?
See why hundreds of food suppliers trust Freshline to sell more while saving time.