The
best alternative

to Shopify for Food Suppliers

See why food businesses on Freshline save hundreds of hours and thousands in costs per year with built-in perishables features.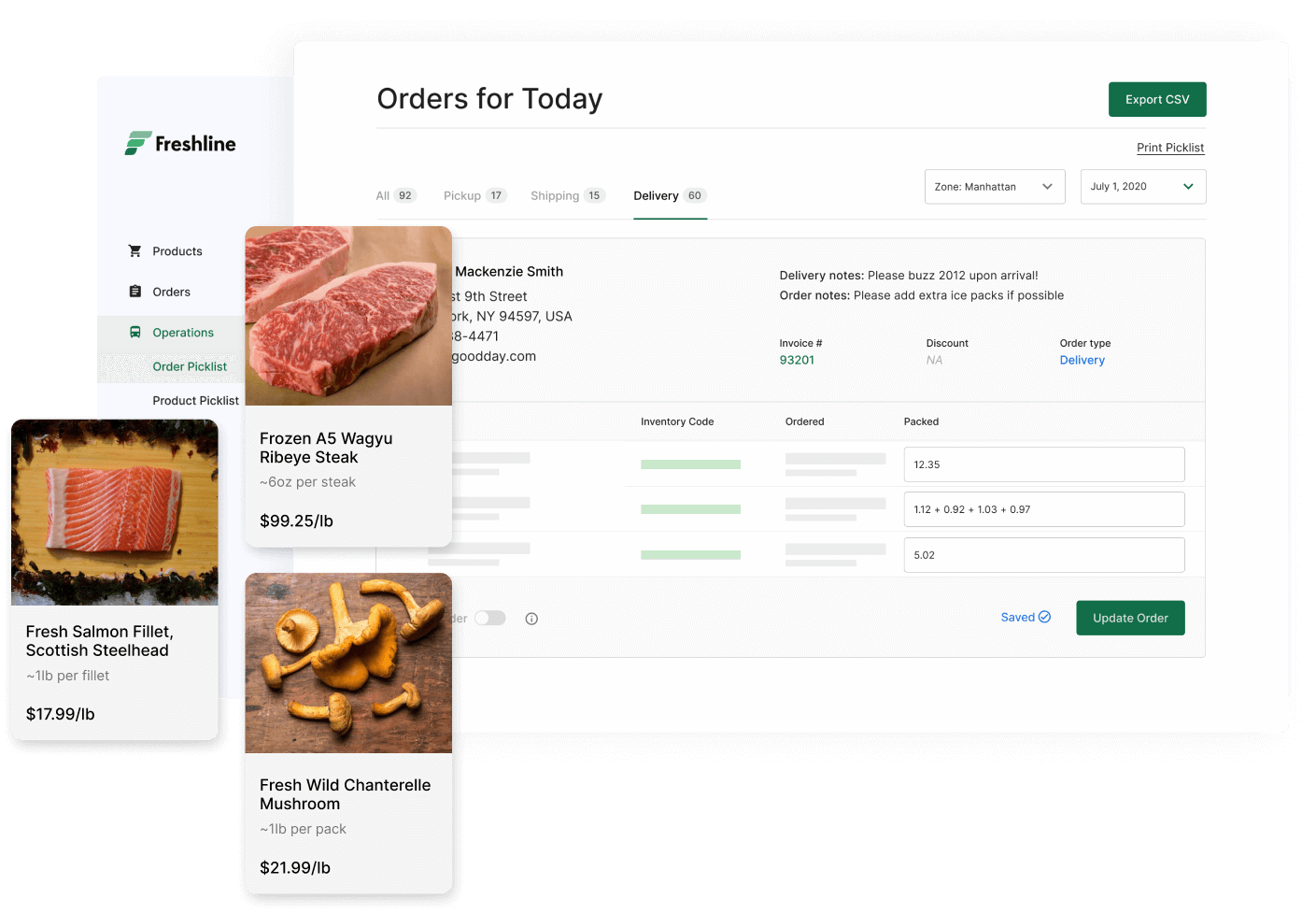 Freshline's specialized features vs. Shopify
By specializing in perishables e-commerce, Freshline is the superior e-commerce alternative to Shopify for food suppliers. Once you examine the cost of third-party apps, long setup needed, and less than ideal workarounds for perishables, it's easy to see why food businesses choose Freshline.
Built for selling produce online
Set up your online ordering by variable weights, custom delivery zones, or complex fulfillment schedules.
Branded online store
Automate your ordering process through an online wholesale ordering platform. Selling to consumers? Build and launch an online store with zero code.
Streamlined fulfillment tools
Simplify your inventory management and automate picking and packing lists to save your team countless hours each month.
Freshline is simple and fast to set up and navigate.
Set up products, shipping, and payments in minutes without needing a web developer with a template store set up in minutes.
Setting up a Shopify store can be overly complex.
Requires significant technical setup and know-how before you can start selling. Often requires a developer to build out your store which can be extremely time consuming and costly.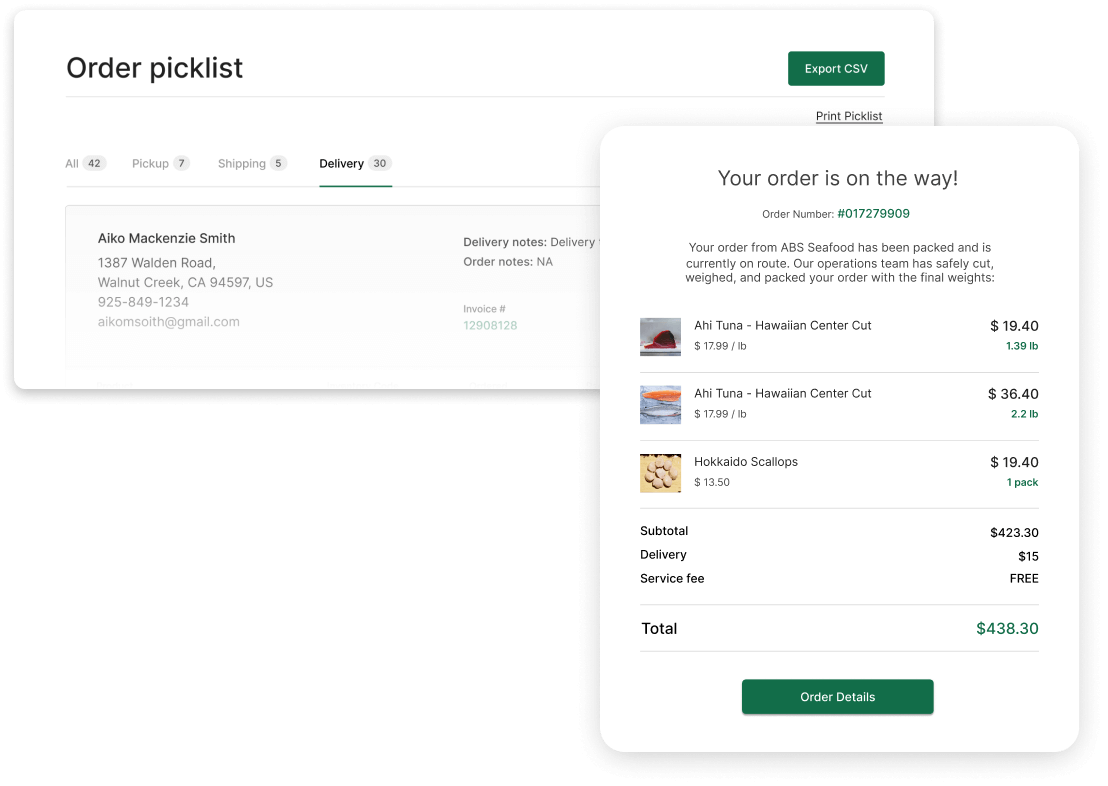 Freshline has built-in tools for food businesses.
No need to heavily rely on third-party apps to address core functionality needed for perishables. Access perishables-specific tools to help you run more efficiently.
Shopify requires multiple costly apps or custom development.
Users need to install multiple third-party apps with variable monthly fees, installation, support - all at a cost of poor user experience.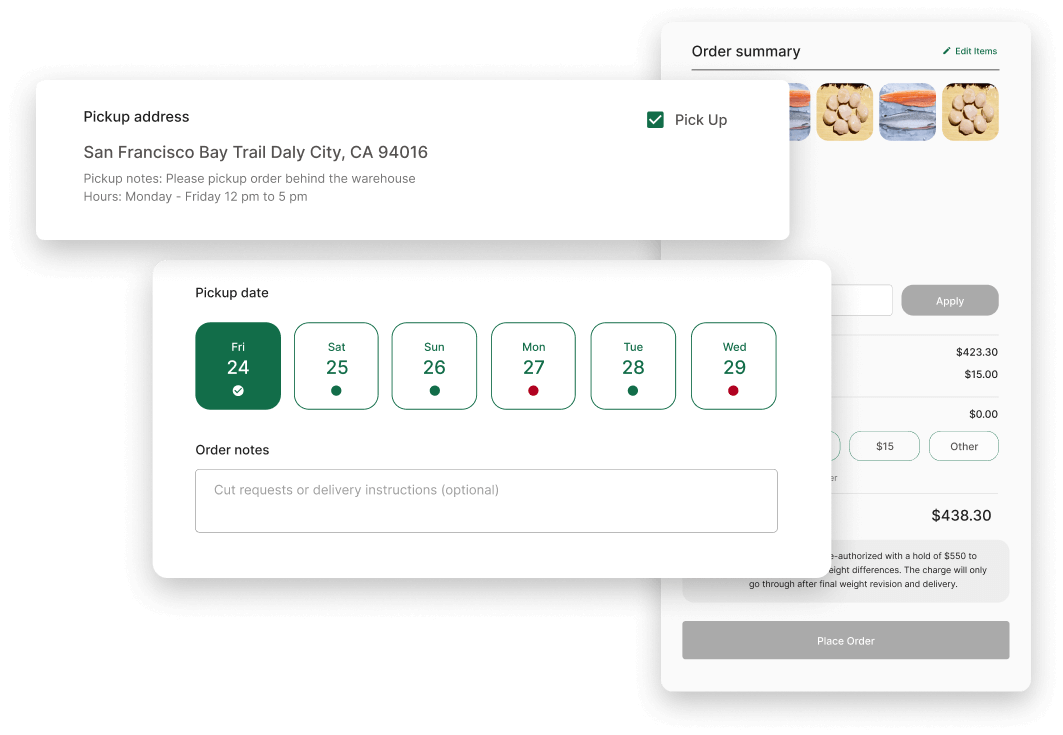 Freshline can be used for variable weight items.
Easily accommodate for catch weight or edit orders without dealing with manual charges, refunds, or customer complaints.
Shopify has no support for variable weights.
Suppliers have no easy way to sell items by weight or edit orders - often forcing suppliers to overcharge or undercharge customers.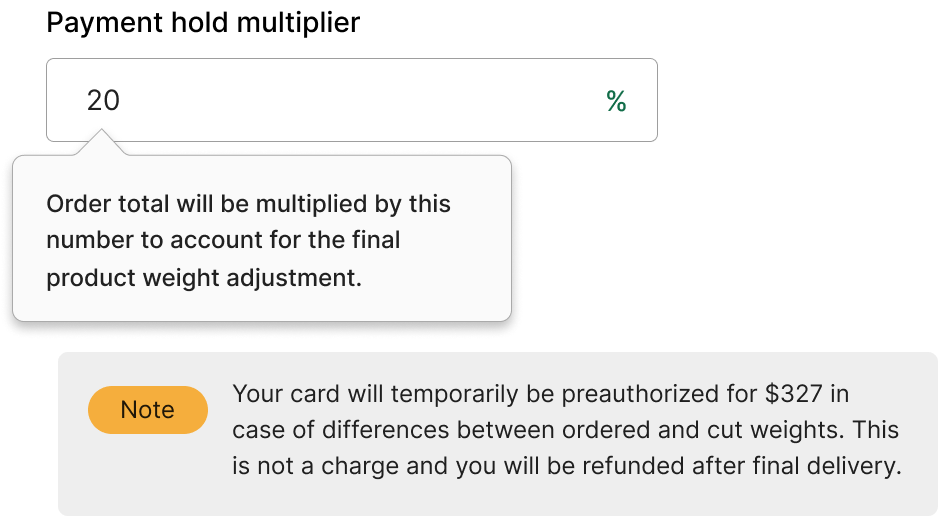 Freshline is built for local commerce and fulfillment.
Create as many shipping, pickup, or local delivery locations with specific rules on cutoff times, service dates, or product availability.
Shopify doesn't have built-in support for local delivery or pickup.
Has no functionality to set up specific delivery or pickup areas. No method to create order cut offs, lead times, or specific delivery dates for specific zones or products.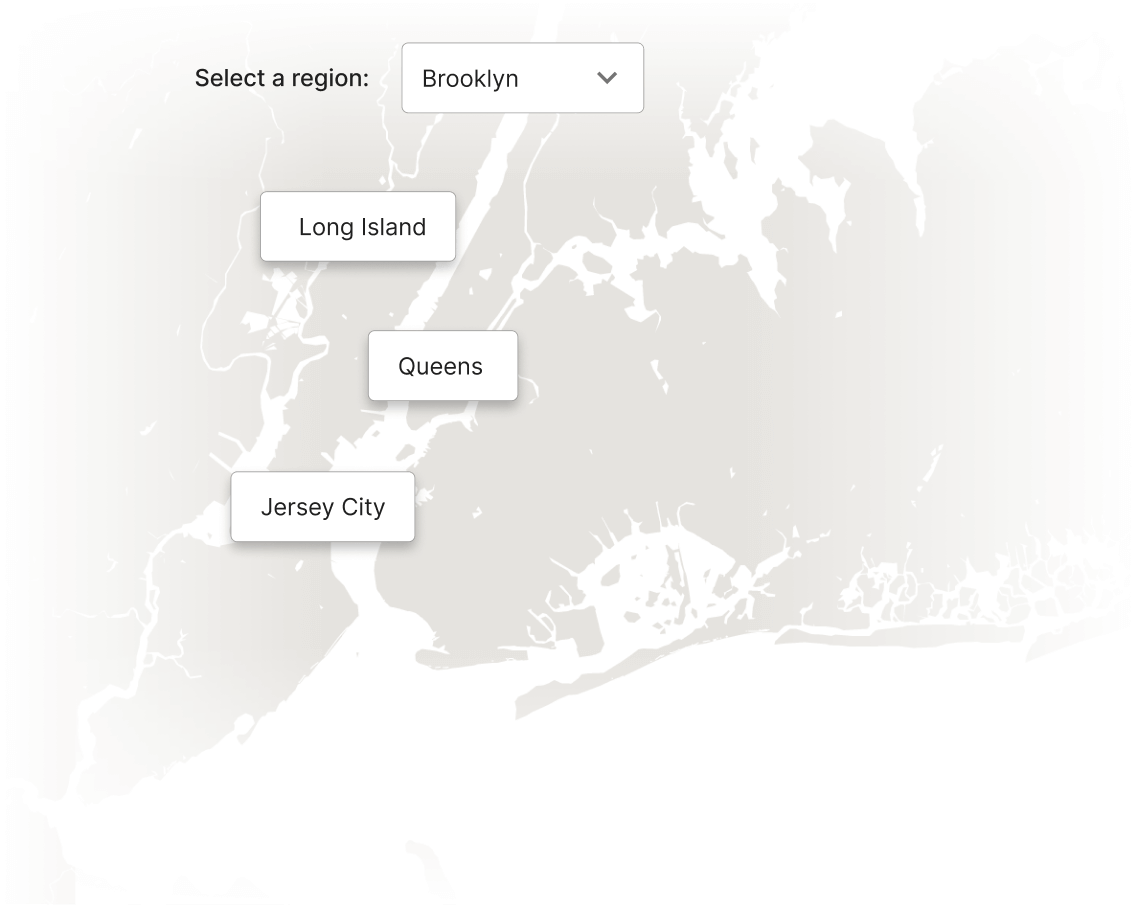 Freshline is simple and fast to navigate and use.
Set up products, shipping, and payments in minutes without needing a web developer with a template store set up in minutes.
Setting up a Shopify store can be overly complex.
Often requires technical setup and know-how before you can start selling. Often requires a developer to build out your store which can be extremely time consuming and costly.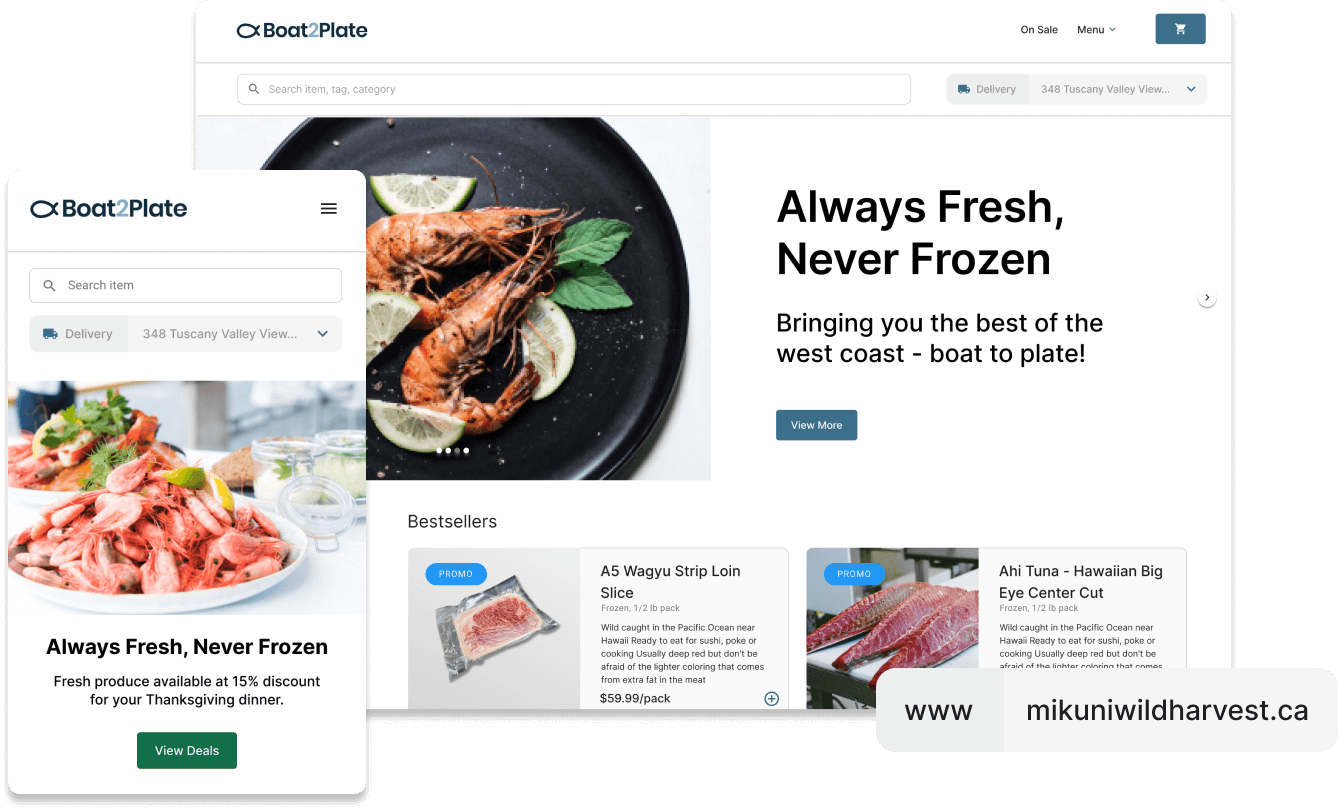 Freshline can be customized to fit your workflow.
Build and export the perfect picklist based on product, order, service zones, or customer attributes - ensuring it maps perfectly to the way you run your operations.
Shopify forces you to adjust to its system.
Has no functionality to build or export a custom pick list. Suppliers often need to tag individual items or export to Excel to organize their deliveries.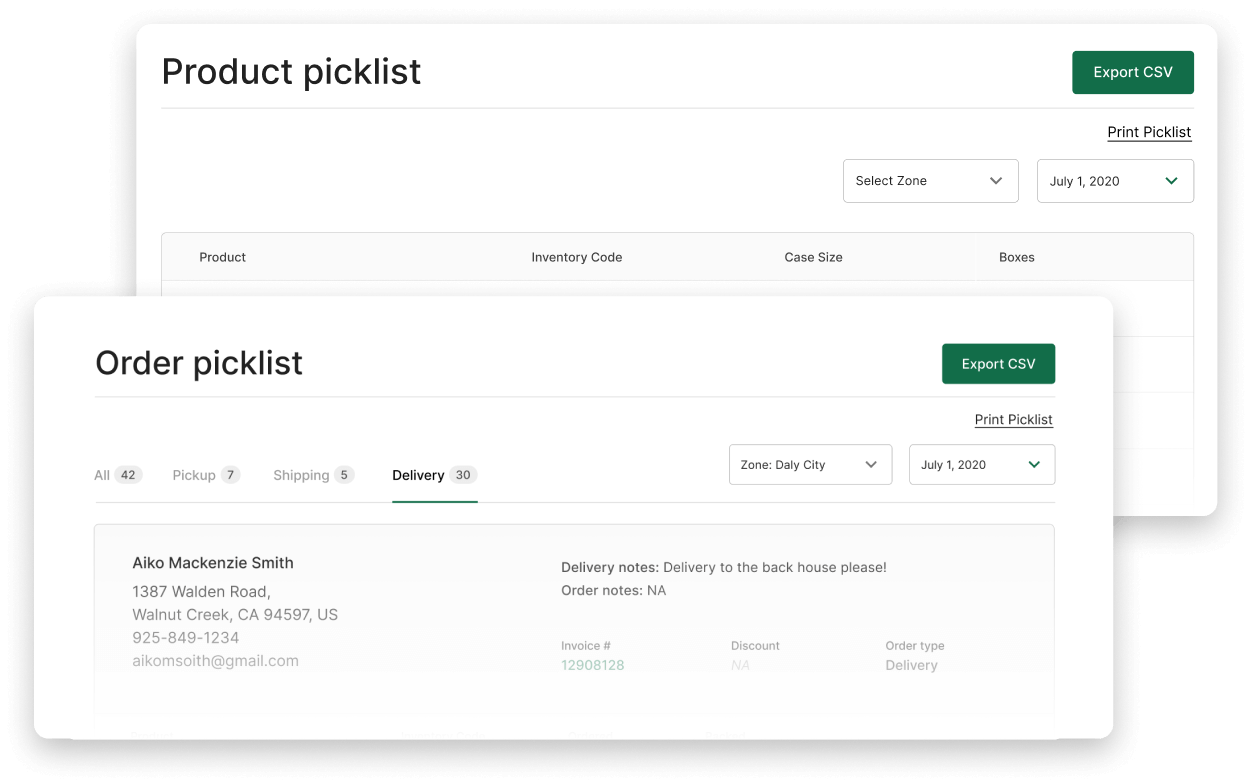 Transform your staff from order takers to sales people
Freshline helps wholesalers eliminate hours of tedious, time-consuming manual work. Simplify order collection and entry, access real-time analytics, and focus on growing your business — not maintaining it. No more late-night texts or early morning phone calls. There's a better way.
E-commerce built for Wholesalers
Sell to wholesale customers with gated access, custom pricing tiers, and sales rep order entry.
Custom Delivery Zones
Simplify your fulfillment with location-specific schedules, availability, cutoffs, or minimums.
Integration Capabilities
Minimize friction with pre-built integrations to industry ERPs and chain/hotel ordering systems.
Picking & Packing Sheets
Simplified picking and packing sheets by date, location, or wholesale orders.
Sell by Weight
Sell variable weight items, with an option to customize case sizes.
Sales & Fulfillment Analytics
Assess real-time SKU profitability, sales per rep, revenue per delivery zone, and more.
Still not convinced?
Here are some key questions you should ask prior to choosing your best alternative to Shopify for perishable food.
Our philosophy is that businesses shouldn't be penalized for growing their deliveries or increasing sales. Compared to other Shopify alternatives for food, Freshline does not take any commissions, service fees, or per-delivery charges.

For a platform to be a viable alternative to Shopify for food, it's imperative to be able to sell both fixed and variable weight items. Freshline allows you to sell fixed-weight, variable, or pre-order items - all in one platform.

Ideal e-commerce platforms should be able to run both foodservice or wholesale ordering portals, as well as retail e-commerce stores under a consolidated backend.

In addition, each sales channel should have specialized tools like Market Pricing, Custom Price Sheets, Quick Re-Ordering, Invoice Signatures, and Fulfillment.

Most alternatives to Shopify are a self-serve tool - expecting you to figure it out on your own. Alternatively, some platforms charge high setup fees to lock you in.

At Freshline, we see ourselves as your technology partner from start to scale. Whether it's onboarding, product migrations, or marketing advice - support always available and always free.

Absolutely. You have the option to fully white-label your online produce store. You can choose any URL (i.e. sell-produce-online.com, or shop.produce-online.com), provided you own the domain.

Most e-commerce alternatives to Shopify are built for shelf-stable goods that can be shipped across the world.

Freshline is a food-specific Shopify alternative - servicing businesses meat, seafood, and produce - with tools to help them customize where, when, and who can order their products.

Most e-commerce platforms are built for a general use case - meaning you need to hire developers, download costly apps, or stitch together processes to make them work for your use case.

Freshline is a robust, customized solution built from the ground up for farmers, butchers, and food suppliers.

Getting started with Freshline is easy. First, sign up for an account here. Then, book a short walkthrough demo, where a Freshline team member will walk you through all of our features, benefits, and guides to building the best online store for seafood.

That's why Freshline includes a robust set of fulfillment rules - such as location-based service dates, product availability, and order lead-times.
Ready to get started?
See why hundreds of food suppliers trust Freshline to sell more while saving time.