Easily sell and adjust variable weights
to save you time.
Create custom overage deposits to account for differences between ordered and packed product weights. Easily bulk update orders with final weights without dealing with manual charges, refunds, or customer complaints.
Pre-authorize for weight variances
Set your own custom payment hold multiplier to serve as a deposit for variable product weights. Reserve the customers' credit card for guarantee payment up to the end of the service date.
Eliminate manual refunds, cutting heavy, or top-up charges - and ensure customers get exactly what they paid for.
Quickly adjust variable weights
Rapidly adjust ordered vs. actual item weights directly on your picklist. Freshline will auto-calculate the new totals, notify customers on final weights, and ensure the correct charge goes through at the end of the service date.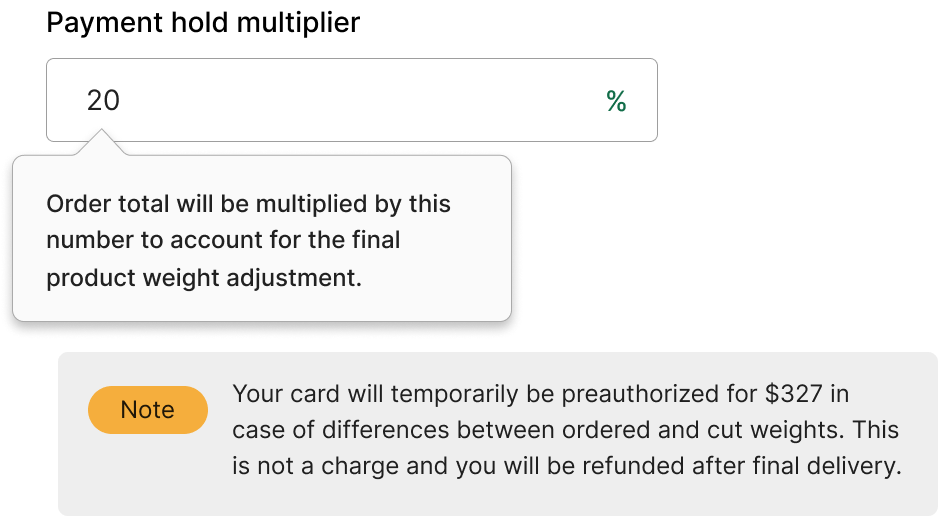 Customize your selling increments
Price items by weight and sell in custom case size increments on your store.
Sell items in custom weight increments while continuing to price by set units for accurate cost estimates and seamless weight adjustments (i.e. price by 'lb', sell in increments of '2.5lb').
Adjust catch weight items on the fly
Easily input final weights for variable weight items up to the end of your delivery or pickup day. Automatically notify customers of final packed weights as you make changes.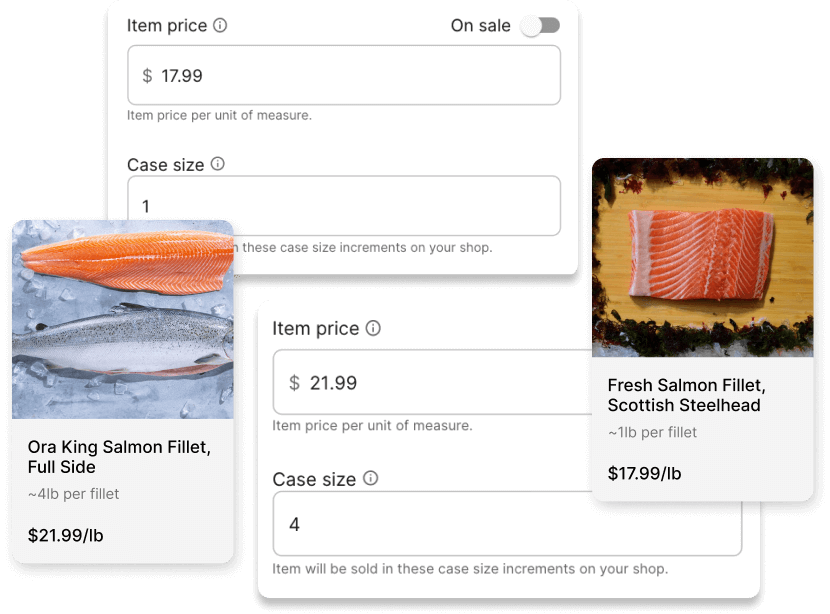 Transform your staff from order takers to sales people
Every minute you waste on manual orders, you could be selling to more customers. Eliminate late-night text orders and early morning manual entries. There's a better way.
E-commerce for Wholesale
Sell to wholesale customers with privileged access controls, custom pricing, and foodservice features.
E-Commerce for Retail
Create a branded, mobile-friendly online store by utilizing our professionally built design components.
Delivery & Shipping Zones
Customize delivery, pickup, and shipping zones, with schedules, fees, minimums, and availability by location.
Picking & Packing Sheets
Simplified picking and packing sheets by date, location, or wholesale orders.
Sell by Weight
Sell variable weight items, with an option to customize case sizes.
Sales & Fulfillment Analytics
Assess real-time SKU profitability, sales per rep, revenue per delivery zone, and more.
Ready to get started?
See why hundreds of food suppliers trust Freshline to sell more while saving time.